Feelworld LIVEPRO L1 V1 Multi Kamera Video Mixer Switcher
Free Shipping&30-Day Return Policy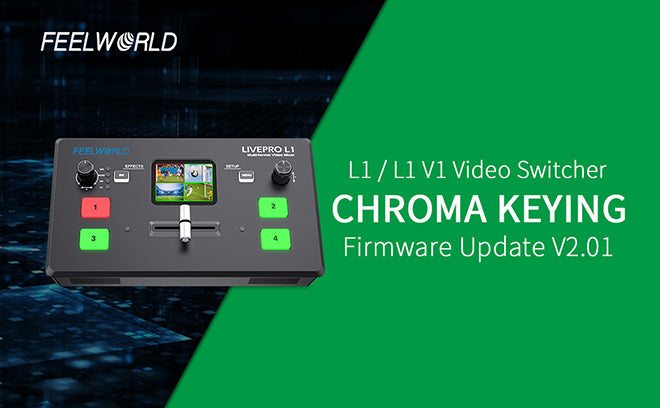 FEELWORLD LIVEPRO L1 Update to New Version
In order to improve user experience, we update LIVEPRO L1 switcher to the new version LIVEPRO L1 V1, it changes the appearance, which is lighter and easier to dissipate heat.
The optimization program and function as below:

1. Optimize the communication when multiple computers controlling
2. Modify the PVW window ratio to 16:9
3.Optimized the problem of abnormal screen display after modify the output resolution when in PIP mode
4. Optimized the phenomenon that the output without audio after switching on and off.
Low Cost, Multi Camera Live Production with Advanced Broadcast Features

LIVEPRO L1 V1 with 4 CH HDMI inputs and 1 HDMI output, all of them support 1080p. For live streaming, there is a USB3.0 interface. And plus, the LAN port for controlling and upgrading; for audio, it has 2 interfaces, one for input, and the other one for output. All of these make it easy to create professional multi camera productions. It is able stream any one from the 4 HDMI inputs to any live broadcasting platform via third party live streaming software such as OBS. Simply connect LIVEPRO L1 and you can switch live between 4 high quality video camera inputs for dramatically better quality images. Or connect a computer for PowerPoint slides or gaming consoles.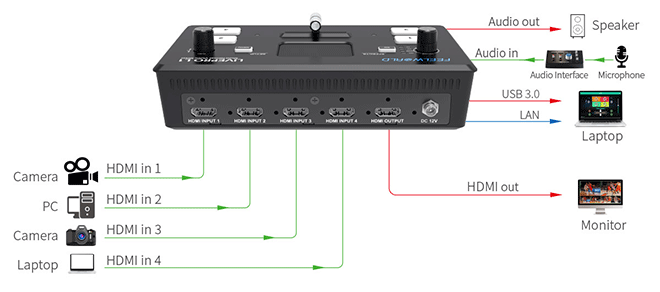 Exquisite and Flexible Control Panel
The LIVEPRO L1 V1 has an exquisite and compact control panel. The 4 buttons are for selecting input signals, green flashing means the signal has been selected, then switch the T-Bar, the selected signal will be displayed on the screen seamlessly, the green button changed to red after switched. The MENU button is for menu setting, the SW button is for selecting different functions such as mixing, PIP, transition time setting and the other functions. The left knob is for voice volume controlling, the right knob is for menu setting as well. From the TFT screen, we can preview 4 HDMI signals and easily do menu setting.
• When you choose T-Bar to switch signal sources or transition effects, T-Bar must be pushed to left end or right end. When using the menu operation, T-BAR should also be in left end or right end, otherwise it cannot be operated.
• When you would like to connect or embed audio, you must select the external or embedded audio source in the "AUDIO" menu firstly.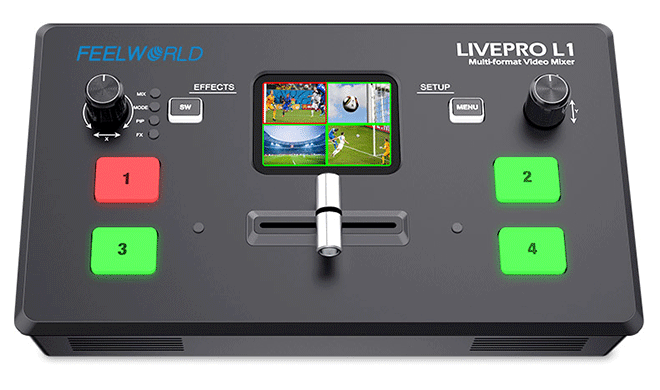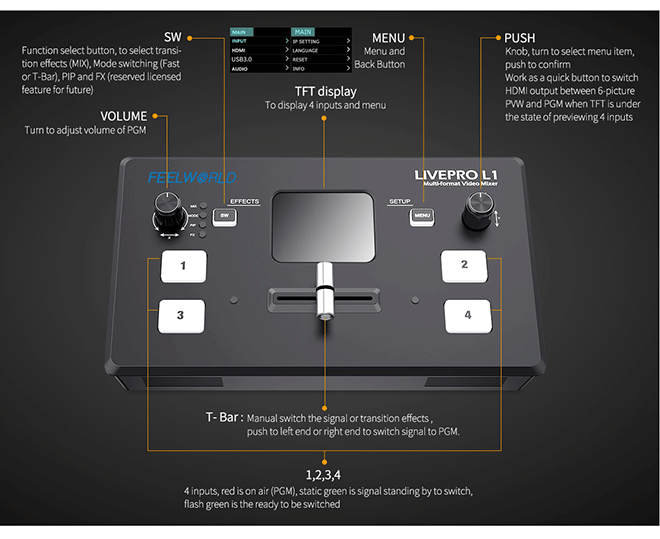 Compact and Light Weight Design
The LIVEPRO L1 V1 is a mini switcher, that is small enough to fit into equipment cases and camera bags. Designed to integrate with typical video production workflows, the LIVEPRO L1 V1 has a screw tap for standard video mounts and conveniently attached onto a tripod to stay out of the way. It is light weight design makes it ideal for mobile video applications too.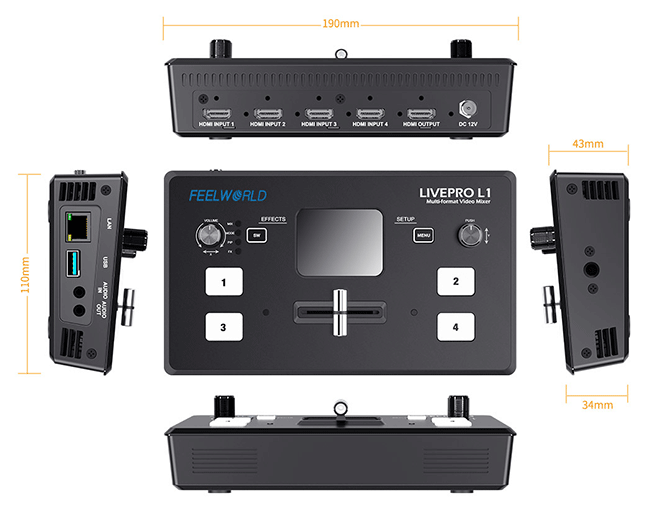 Multi- Application, One Solution
For normal people, they need smaller and simpler product to deal with the live applications. The LIVEPRO L1 V1 can be done this, which is with simple and compact design, rich special effects switching function, the screw hole can be fixed the switcher on the tripod. With these, live streaming and multi signal control will be simpler and easier done by single person.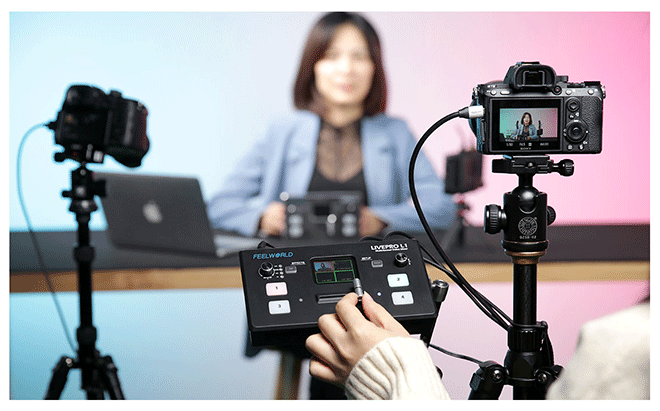 Faster Video Production, Plus Live Streaming
Live production is the fastest way to complete a finished program, plus you can stream it to a live global audience via Youtube at the same time. The USB 3.0 output of LIVEPRO L1 V1 connects to any computer and looks like a built in webcam, so all streaming software for social media platforms work! With up to 4 HDMI inputs you can set up multiple camera angles such as wide shots along with independent close ups of each person in the performance. Or you can connect to a computer with a PowerPoint slide show, video clip playback, websites or gaming consoles. All switching is in real time so you can live stream to any social media platform such as Youtube, Facebook, Tik Tok, Douyu TV and many more!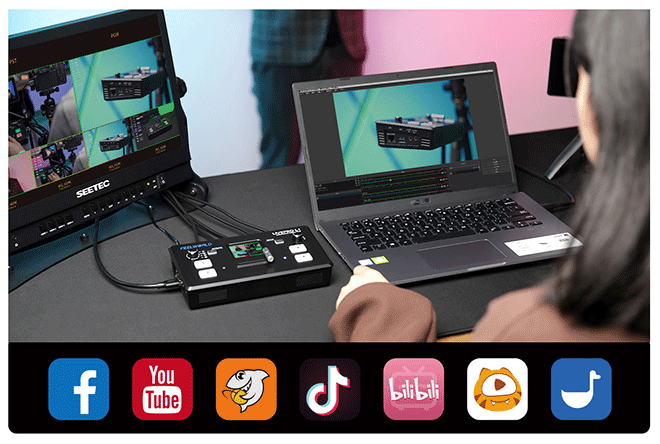 Flexible T-Bar Switching
The T-Bar of LIVEPRO L1 V1 support 14 transition effects and signal switching. Under T-Bar mode, pushing green button, it will flash and push T-Bar to the end (left or right), the source will be switched with selected transition effect. After switching, green turns to red. It is very suitable for video special effects switching of small outdoor scenes to meet the needs of video switching such as radio and television, outdoor sports events, school courseware production, etc.
Note: When T-Bar is not in the end position, no source can be selected.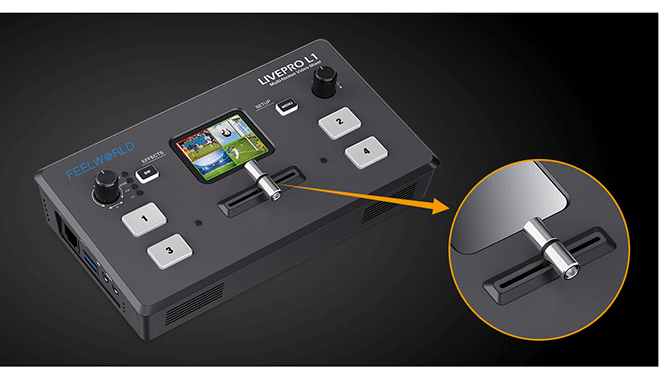 AUDIO IN and AUDIO OUT
LIVEPRO L1 V1 with AUDIO IN and OUT. The output interface can be connected to speakers, headsets, etc.; The AUDIO IN interface is a linear input interface, which is connected to digital signal. The microphone collects analog signals, so when the microphone is connected to the LIVEPRO L1 V1 audio input interface directly, there is no way to receive audio.
Solutions for live broadcasting audio problems:
• If there is microphone and audio interface, please connect microphone to the audio interface and connect the output interface of the audio interface to the AUDIO IN interface of LIVEPRO L1 V1.

• If there is microphone but without audio interface, please connect the microphone to the MIC interface of computer.

• If there is wireless microphone and it with earphone interface, please connect this interface to AUDIO IN of LIVEPRO L1 V1. 

• If there is device of MIC to Line output, please connect to AUDIO IN of LIVEPRO L1 V1.

USB interface and HDMI output can set PVW and PGM independently
Allowing you to choose freely
The USB interface of LIVEPRO L1 V1 also can be used as signal output except HDMI output. They can connect computer or monitor to set PGM and PVW independently. You can choose to set any of them as preview or PGM as you like.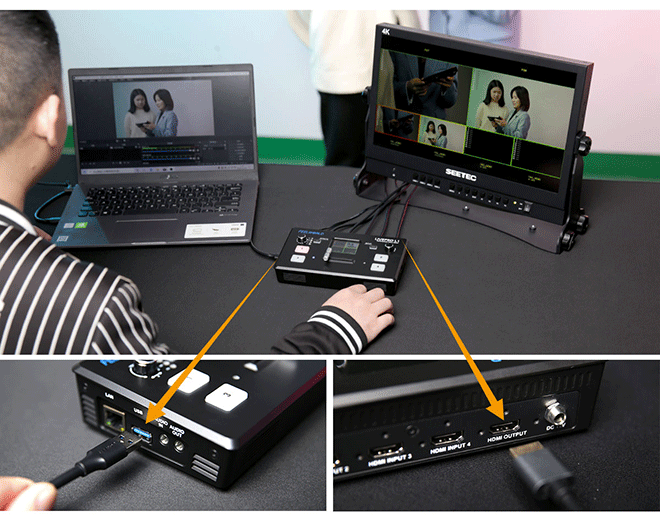 6 Picture PVW, PIP
When the switcher is connected with an external expansion screen, it can preview real-time monitoring on 6 pictures, including PGM, PST and 4-channel HDMI input signals, and the audio column is displayed. Plus, you can set 9 layouts for PIP (Picture in Picture) mode. This is very useful for large-scale multi stand field production.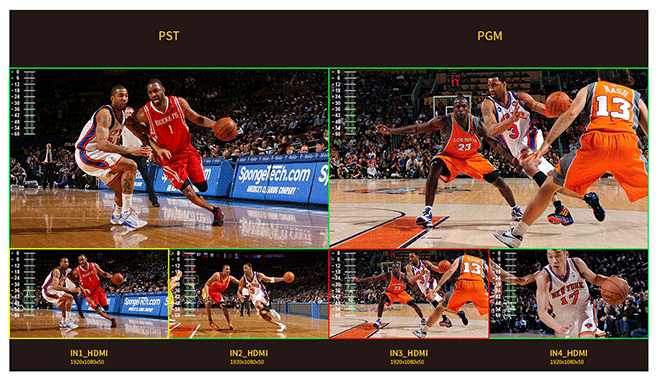 USB 3.0 Live Streaming
Make Live Brocasting More Convenient and Fast
To ensure maximum compatibility, LIVEPRO L1 V1 features a USB connection that operates as a simple webcam source. That means you can plug in and instantly get working with any video software. The software is tricked into thinking the LIVEPRO L1 V1 is a common webcam, but it is really a live production switcher! That guarantees full compatibility with any video software and in full resolution 1080HD quality. Choose any software you like, such as OBS software for live streaming, or conference software (Tencent conference and Yealink ) for business presentations. LIVEPRO L1 works with software and platforms such as OBS, acquisition software(AMCap, ECap, Potplayer), conference software (Tencent conference and Yealink) , Youtube, Facebook, Zoom, Tik Tok and more!
Note: OBS Streaming is available to download on  https:/obsproject.com/download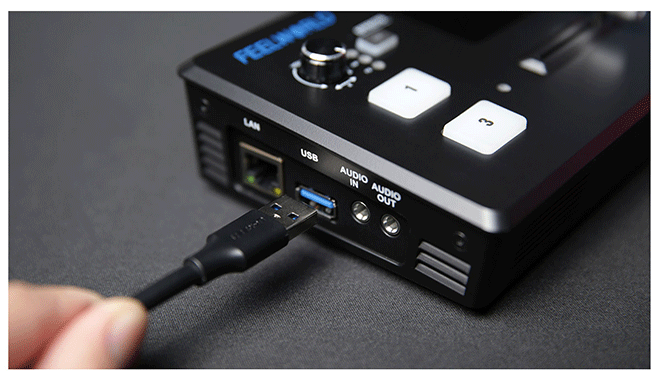 Multiple Application Scenarios Suitable
LIVEPRO L1 V1 is widely used in sports events, e-sports competition, business presentation, wedding , character interview, education and training, etc.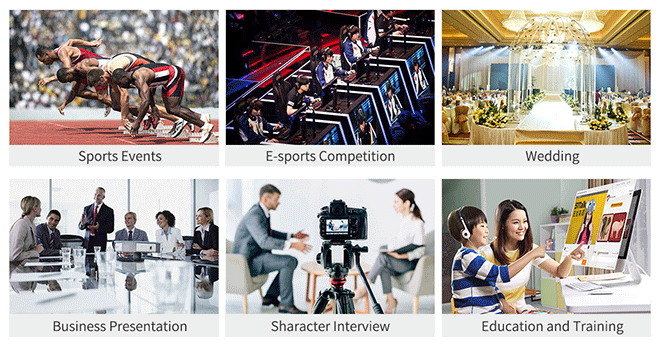 Add Exciting Video Effects
One of the benefits of LIVEPRO L1 V1 is the professional production values that are possible using the range of built in video effects. Push button SW to open up the transition effect menu, use knob to select the desired transition effect icon and push the knob to confirm. The "cut" in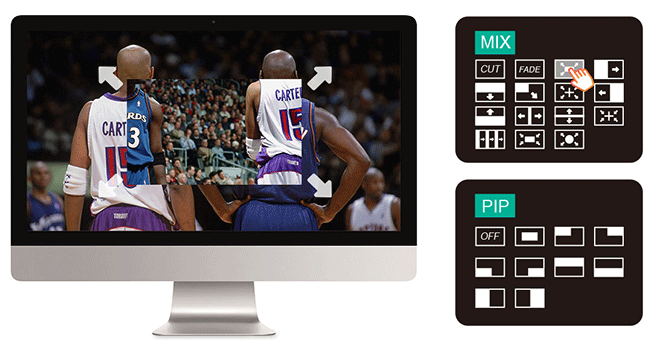 PC Controlling, Remote Operation
After connecting the LAN port to the computer, not extra software need to be installed, the software XPOSE holds on the computer, the operation is same as the switcher. So as to realize remote controlling, imagine using the switcher from a control room and building a professional broadcasting studio where the control room can be separated away from the performance or interviews. In addition, it allows you to add as many panels as you like all at the same time.
PS: Please download the XPOSE software from the "DOWNLOAD" module of this page, please don not put it in the system disk (C disk) after download.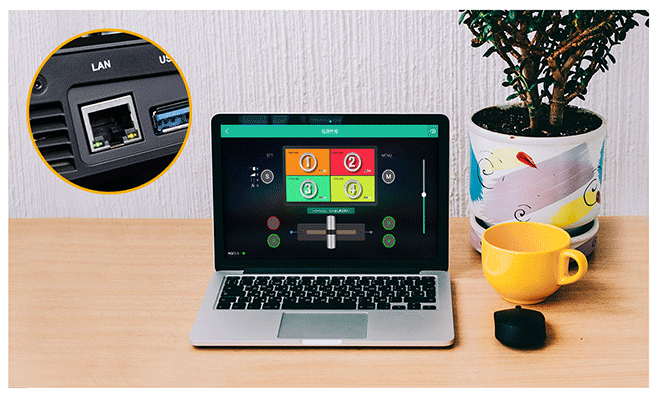 Packing List
1× 1.5A Adaptor
1× USB 3.0 Cable
1× Manual
Shipping time:
Free shipping for orders to almost worldwide. Express shipping available.
Your items will be shipped around 5 business days after receipt of payment.
Your order will be delivered in about 7-15 business days.(Depending on the logistics you choose at the time of purchase)
Logistics partners: FedEx, DHL, 4PX, UPS, USPS.
Please note: During high season and Sale(Black Friday,Cyber Monday,Christmas Day, New Year's Eve, Chinese Year), delivery might take 15-30 days to delivery.
Shipping Address

1. We do not ship to APO/FPO, PO Box address
2. Please write your address in English (If your primary language is not english, please translate it into english).This is very important for shipping
3.Note: Remote areas need to levy remote surcharges.(The details are subject to the charges of the logistics carrier.)

Taxes and Fees - Domestic & International
The prices of our goods include GST and VAT, but do not include customs clearance.Customs clearance costs are borne by the buyer.Different countries have different tariff thresholds for imported goods, and the specific customs clearance fees are subject to the local customs notice.
We will declare items as low as we can to help customer avoid tax,but for some countries you may need to pay import duty. We are not responsible for any tax. If you want the declared a real value, please contact us.
Default, if you refuse Customs and make the package returned or destroyed, we don't refund or compensate.
Canceling an Order
If you would like to cancel a pending order, you can do so provided that the order has not shipped yet. 
An order cannot be canceled once the item has been shipped from our warehouse.
Click here to know more about Returns policy.
If there is anything we can do for you, please feel free to

 contaact us 

before any action and we will certainly fix it for you. Thank you for your understanding.
Warranty
Vitopal offers a Limited One Year Warranty to all products.Product will be free from defects in workmanship and in materials for a period of one (1) year from the purchase date as is noted on the original receipt and/or invoice.   Limited One Year Warranty is void if any signs of tampering and/or unauthorized service is performed on the product.  Accidental and user damage is not covered under the Limited One Year Warranty.Any questions or concerns,please contact office@vitopal.com.
Replacements & Repairs
Please consult the user manual prior to returning an item.  If product deficiency is do to accidental or user damage, the product may not be returned and is not covered under warranty.  Please allow approximately 7-10 business days for your return order to be processed once it has been received at our warehouse.  If requesting a replacement for a defective item, your item must first be reviewed by our repair department.  If the item shows signs of misuse, tampering, or damage, the warranty is void. If the unit can be repaired, repair costs are the responsibility of the customer unless the product is covered under warranty. In the event of a void warranty, the customer will be billed for shipping costs to and from the repair facility.  If the item is deemed a manufacturer defect, the defective unit will be replaced with a new or like-new replacement item, pending available stock. If the item is not in stock, efforts will be made to expedite the replacement of the item.  If the item is being tested under warranty and is deemed in proper working condition, the buyer is responsible for shipping and handling charges to and from the repair facility.  
 Any questions or concerns,please contact office@vitopal.com.
Returns 
30-Day Return Policy
We offer a 30-Day Money Back Guarantee.  If you are not completely satisfied with your product, you can return your order for a full refund.Returns can be made up to 30 days following the original date of purchase, however, returns outside of the 30-Day Money Back Guarantee will be subject to a 20% restocking fee. The customer is responsible for the cost of shipping the product back to our warehouse. 
The 30-Day Money Back Guarantee and 30 day return period is only eligible for your original purchase from Vitopal website. All returns must be in original packaging and in like-new condition with warranty card, original accessories, and valid invoice. 
We will provide return shipping label or responsible for shipping cost only for defective item,buyers should be responsible for paying return cost for other return reasons.
Please be aware that we will not refund any returned product that is damaged due to customer misuse, missing parts, or in an unsellable condition due to customer tampering.
How to return
Eligible products must be returned using a traceable shipping method. Please contact our customer service and we will guide you through the process.

Please return the entire product to us and share the return tracking number, we will check upon receipt. If all is well, we will refund you immediately.

If you have any questions, please email office@vitopal.com.
Refund
For returned items or items for exchange, we will need 3-5 business days upon receiving your item(s) to process the solution.
After this time, the refund time-frame is as below:
Paypal refunds: 1-3 business days
Credit card refunds: 1-7 business days
Please contact our for further help. We will do our very best to help you and reply to all messages within 24 hours business days.
You will not get refund under the following situations:
1.Product not purchase from Vitopal.net
2.Product returned without original package or missing accessories
3.Product physically damaged
NOTE: THIS RETURN POLICY ONLY APPLIES TO ORDERS PLACED ON VITOPAL.NET.