Feelworld L2 Plus Multi camera Video Mixer Switcher with 5.5" Touchscreen PTZ Control Chroma Key Live Streaming
Free Shipping&30-Day Return Policy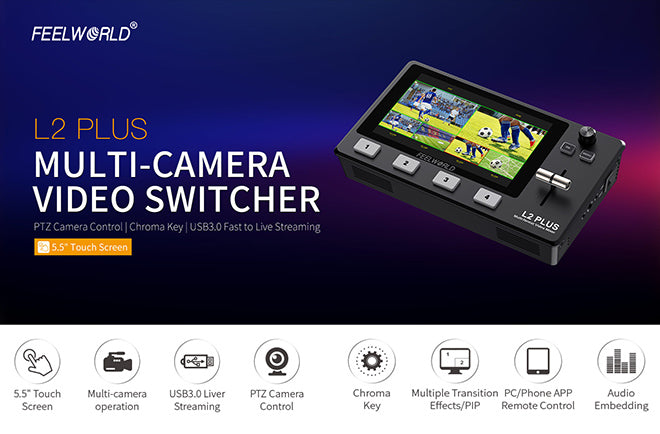 Full Feature Multi-camera Live Production Switcher
FEELWORLD L2 PLUS is the portable full feature live switching & streaming solution.The large 5.5-inch LCD touch screen make it easy to complete various operations via a finger tapping. You can preview 4 cameras, PST and PGM in real time.L2 PLUS is upgraded from LIVEPRO L1. In addition, it supports PTZ camera control, which can well control the rotation, focus and zoom of the camera.The built-in chroma key function,is perfect for news or on-set presentation work. You can even use it for title overlays by creating graphics to make the live broadcasting more professional.Even the interviews and presentations become easy through the separate mic!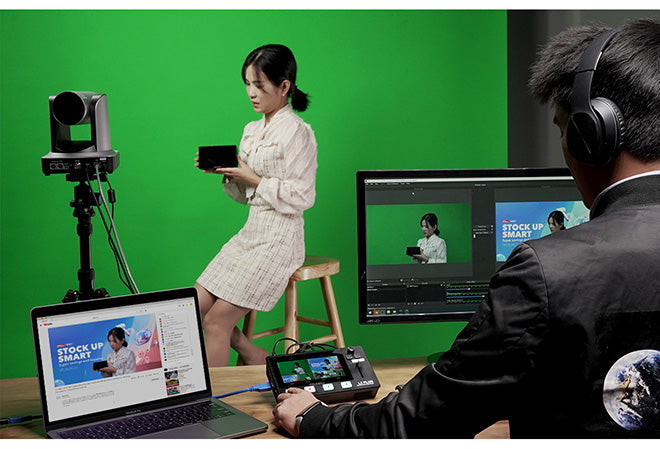 Plug-and-Play, Improve Working Efficiency
L2 PLUS is for video creators or anyone who wants to make broadcast quality multi-camera programs simply and quickly from anywhere. You can live streaming to YouTube/Facebook/Instagram or using Skype or ZOOM for innovative business presentations, and easily control every screen by PTZ camera. Best of all, L2 PLUS is plug and play, you don't need to be a video professional to achieve great looking results.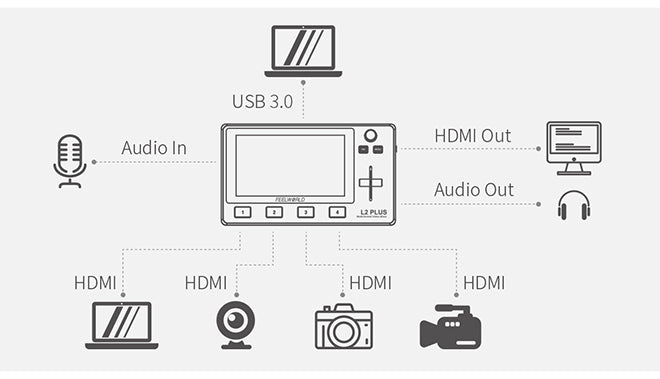 5.5-inch Large LCD Touch Screen
Easier operation, more comfortable monitoring
On the front panel of L2 PLUS with a 5.5-inch touch screen, it can present 4 input sources, PST preview picture and PGM output picture let you monitoring in real time, without having to connect an additional monitor. Gently touch the menu icon to enter the corresponding sub menu settings fastly. Without menu mode, gently tap one of the four input signal pictures on the screen to switch input signal; Long press any position of the screen to switch PGM as full screen; Long press again to return to six-picture preview; click PST preset can switch A/B layer. Easy to use, take your live streaming to a smarter experience.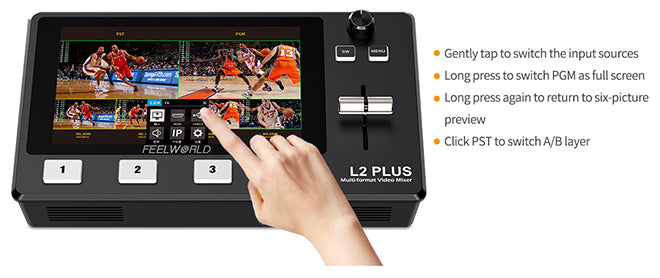 Flexible Control Panel
Simple switching and streaming
The flexible control panel of L2 PLUS allows you to use either touch screen or the physical buttons. Press the MENU main menu or the SW function menu button, the interface will be displayed on the screen. You can select and set the menu by touching or turn the knob in the upper right corner. 1~4 Illuminated signal button allow you to easily switch and live stream even in dimly lit environment. In addition, you can switch the signal source through the T-Bar on the panel.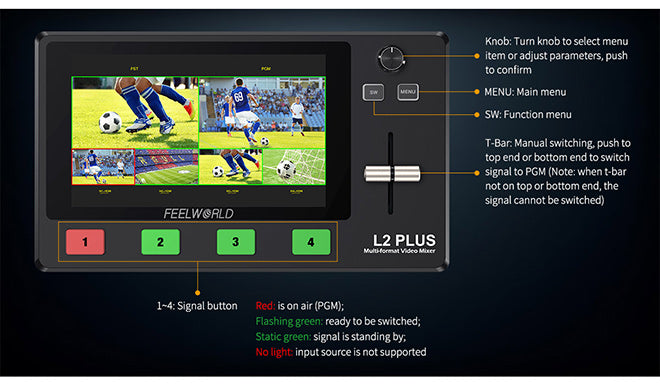 PTZ Camera Control
Up to control 8 cameras
L2 PLUS can control cameras which supports VISCA protocol. You can control camera to move, zoom and focus. Meanwhile, it also saves the memory of camera position and zoom information for quick retrieval the next time you use it. Ideal for various video conferences, online educational , church live streaming and sports events.
Note: When operating the camera, L2 PLUS needs to remain in the Control interface, otherwise the PTZ camera cannot be controlled.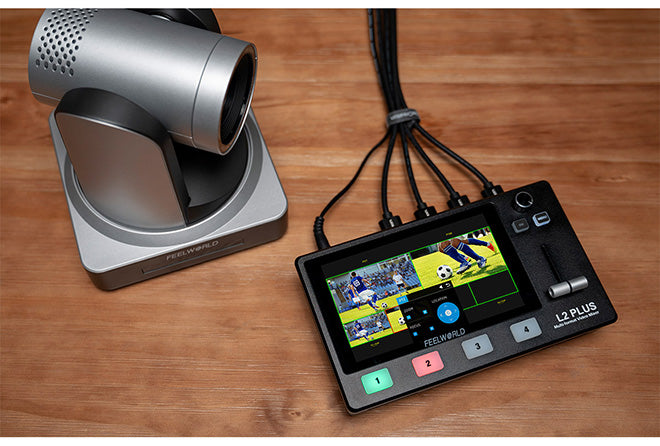 Faster Video Production and Live Streaming
USB3.0 live streaming
Live production is the fastest way to complete a finished program, plus you can stream it to a live global audience via YouTube at the same time. The L2 PLUS features a USB 3.0 connection that operates as a simple webcam source. It can connect to any computer, so all streaming software for social media platforms work! Such as OBS software for live streaming, or conference software (Skype, ZOOM, Tencent conference and Yealink ) for business presentations. All switching is in real time so you can live stream to any social media platform such as Youtube, Facebook, Tik Tok, Douyu TV and many more! Plus, L2 PLUS with up to 4 HDMI inputs and in full resolution 1080HD quality you can set up multiple camera angles such as wide shots along with independent close ups of each person in the performance.
1080P High Quality Image
The resolution of input and output of the L2 PLUS are support up to 1080P@60 making the live broadcast picture clearer and charming, connect with your fans like never before.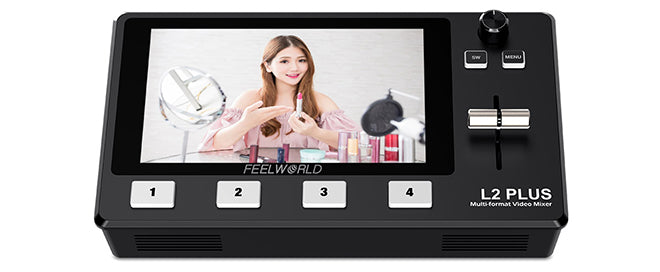 Audio Input and Output
Work with microphone, better for live streaming
The L2 PLUS provides a standard 3.5mm microphone interface(Audio In). It supports the independent input of an active (self-powered) microphone device, collecting sound information more clearly when it is used for interview programs. You can also use an external sound console to mix multiple external sound inputs. The L2 PLUS also provides a standard 3.5mm audio output, so you can use external speakers or headphones to monitor the L2 PLUS's main output audio signal in real time.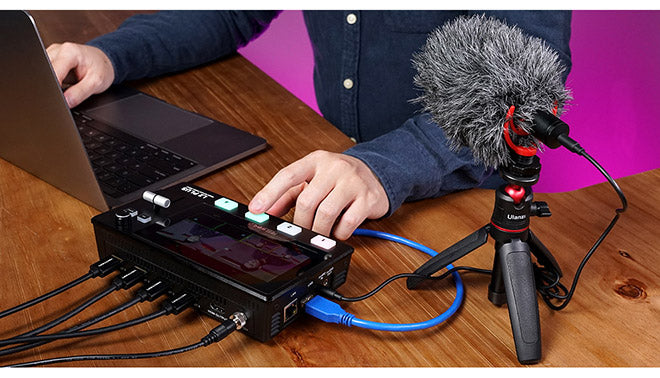 HDMI OUT
Suppots switch between 6-Picture PVW and PGM
L2 PLUS not only can see 6 split picture on its screen, but also connect an external expansion display via the HDMI output interface to simultaneously monitoring. Including PGM, PST and 4-channel HDMI input signals, and the audio column is displayed. Picture in picture can also be set, all switching is in real time, this is very useful for large-scale multi stand field production.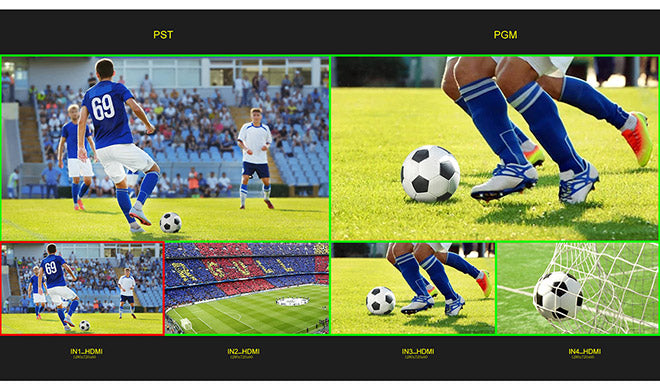 Built-in Cooler
The switcher built-in a cooler, there are three fan speed for adjustment to get rid of the trouble of overheating the device!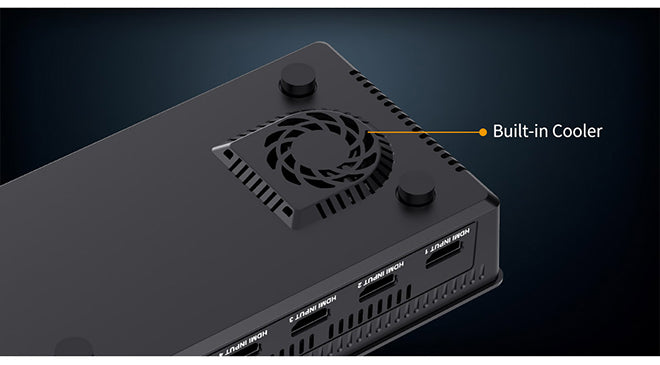 Multi-application, One Solution
The L2 PLUS with full functions, but enough tiny and lightweight, the standard 1/4" screw hole can fix the switcher on the tripod. Live streaming and multi signal control will be simpler and easier done by single person.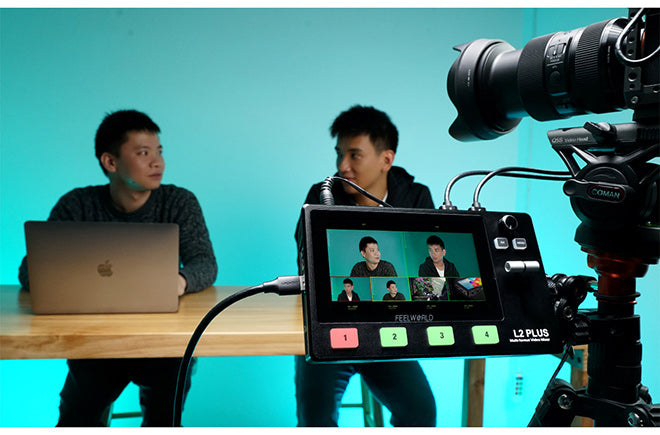 Professional Broadcast Transition Effects
Take your live broadcast to next level
One of the benefits of L2 PLUS is the professional production values that are possible using the range of built in video effects. "CUT" is the hard cut operation in "FAST" mode, which can be set to switch transition effects from 0.5 seconds to 5.0 seconds. You can also use T-Bar to switch the special effects you want.
Note:In actual use, the hard cut is only available in FAST mode, if you use T-Bar mode, it will automatically change to FADE.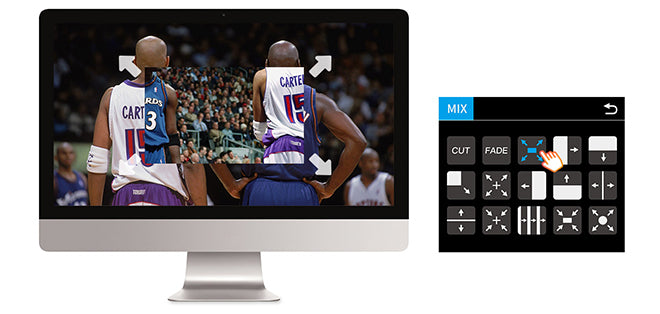 9 Picture-in-Picture Modes
One of the benefits of using L2 PLUS with a multi-camera setup is that you can use the Picture-in-Picture function to display two inputs at the same time. Any of the four HDMI inputs can be used for a Picture-in-Picture effect over the program output, with selecting your favourite mode. You can display a close-up of a product on your desk and display your face as a Picture-in-Picture at the same time whilst you talk about the product.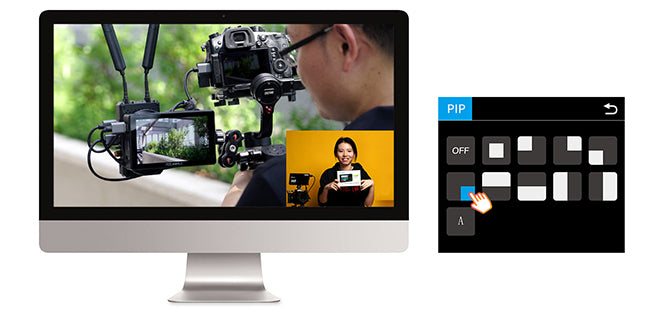 PC and Phone APP Controlling, Remote Operation
After connecting the LAN port to the computer, the software XPOSE can control the L2 PLUS holds on the computer, the operation is same as the switcher. So as to realize remote controlling, imagine using the switcher from a control room and building a professional broadcasting studio where the control room can be separated away from the performance or interviews. The smartphone also can remote controlling, just download the XPOSE (Feelworld Live) APP and connect the WIFI. In addition, it allows you to add as many panels as you like all at the same time.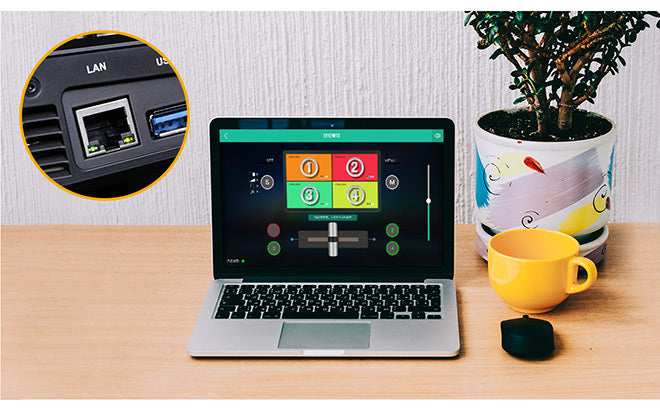 Multiple Application Scenarios Suitable
L2 PLUS is widely used in sports events, e-sports competition, business presentation, wedding , character interview, education and training, etc.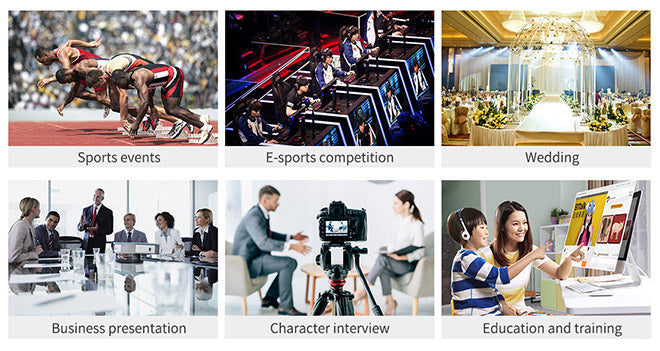 Shipping time:
Free shipping for orders to almost worldwide. Express shipping available.
Your items will be shipped around 5 business days after receipt of payment.
Your order will be delivered in about 7-15 business days.(Depending on the logistics you choose at the time of purchase)
Logistics partners: FedEx, DHL, 4PX, UPS, USPS.
Please note: During high season and Sale(Black Friday,Cyber Monday,Christmas Day, New Year's Eve, Chinese Year), delivery might take 15-30 days to delivery.
Shipping Address

1. We do not ship to APO/FPO, PO Box address
2. Please write your address in English (If your primary language is not english, please translate it into english).This is very important for shipping
3.Note: Remote areas need to levy remote surcharges.(The details are subject to the charges of the logistics carrier.)

Taxes and Fees - Domestic & International
The prices of our goods include GST and VAT, but do not include customs clearance.Customs clearance costs are borne by the buyer.Different countries have different tariff thresholds for imported goods, and the specific customs clearance fees are subject to the local customs notice.
We will declare items as low as we can to help customer avoid tax,but for some countries you may need to pay import duty. We are not responsible for any tax. If you want the declared a real value, please contact us.
Default, if you refuse Customs and make the package returned or destroyed, we don't refund or compensate.
Canceling an Order
If you would like to cancel a pending order, you can do so provided that the order has not shipped yet. 
An order cannot be canceled once the item has been shipped from our warehouse.
Click here to know more about Returns policy.
If there is anything we can do for you, please feel free to

 contaact us 

before any action and we will certainly fix it for you. Thank you for your understanding.
Warranty
Vitopal offers a Limited One Year Warranty to all products.Product will be free from defects in workmanship and in materials for a period of one (1) year from the purchase date as is noted on the original receipt and/or invoice.   Limited One Year Warranty is void if any signs of tampering and/or unauthorized service is performed on the product.  Accidental and user damage is not covered under the Limited One Year Warranty.Any questions or concerns,please contact office@vitopal.com.
Replacements & Repairs
Please consult the user manual prior to returning an item.  If product deficiency is do to accidental or user damage, the product may not be returned and is not covered under warranty.  Please allow approximately 7-10 business days for your return order to be processed once it has been received at our warehouse.  If requesting a replacement for a defective item, your item must first be reviewed by our repair department.  If the item shows signs of misuse, tampering, or damage, the warranty is void. If the unit can be repaired, repair costs are the responsibility of the customer unless the product is covered under warranty. In the event of a void warranty, the customer will be billed for shipping costs to and from the repair facility.  If the item is deemed a manufacturer defect, the defective unit will be replaced with a new or like-new replacement item, pending available stock. If the item is not in stock, efforts will be made to expedite the replacement of the item.  If the item is being tested under warranty and is deemed in proper working condition, the buyer is responsible for shipping and handling charges to and from the repair facility.  
 Any questions or concerns,please contact office@vitopal.com.
Returns 
30-Day Return Policy
We offer a 30-Day Money Back Guarantee.  If you are not completely satisfied with your product, you can return your order for a full refund.Returns can be made up to 30 days following the original date of purchase, however, returns outside of the 30-Day Money Back Guarantee will be subject to a 20% restocking fee. The customer is responsible for the cost of shipping the product back to our warehouse. 
The 30-Day Money Back Guarantee and 30 day return period is only eligible for your original purchase from Vitopal website. All returns must be in original packaging and in like-new condition with warranty card, original accessories, and valid invoice. 
We will provide return shipping label or responsible for shipping cost only for defective item,buyers should be responsible for paying return cost for other return reasons.
Please be aware that we will not refund any returned product that is damaged due to customer misuse, missing parts, or in an unsellable condition due to customer tampering.
How to return
Eligible products must be returned using a traceable shipping method. Please contact our customer service and we will guide you through the process.

Please return the entire product to us and share the return tracking number, we will check upon receipt. If all is well, we will refund you immediately.

If you have any questions, please email office@vitopal.com.
Refund
For returned items or items for exchange, we will need 3-5 business days upon receiving your item(s) to process the solution.
After this time, the refund time-frame is as below:
Paypal refunds: 1-3 business days
Credit card refunds: 1-7 business days
Please contact our for further help. We will do our very best to help you and reply to all messages within 24 hours business days.
You will not get refund under the following situations:
1.Product not purchase from Vitopal.net
2.Product returned without original package or missing accessories
3.Product physically damaged
NOTE: THIS RETURN POLICY ONLY APPLIES TO ORDERS PLACED ON VITOPAL.NET.